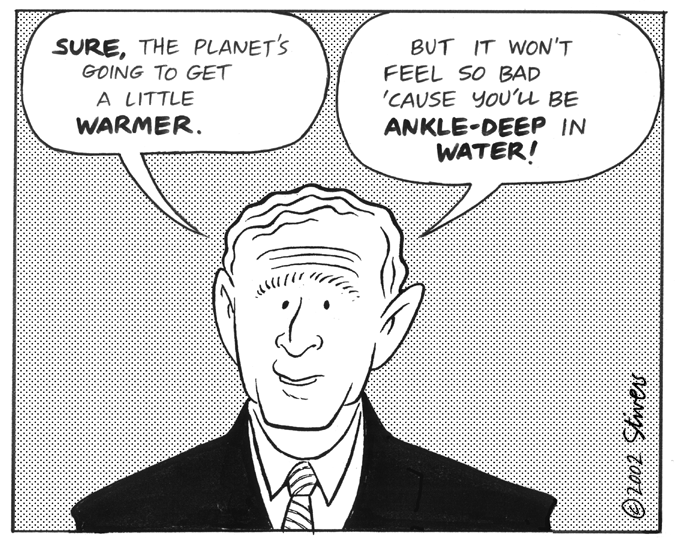 President Jacques Chirac opened a Paris conference on world environmental governance with a call for a green "revolution" to meet the challenges of global warming.
"Soon will come a day when climate change escapes all control. We are on the verge of the irreversible," Chirac told the meeting.
United Nations
scientific report on global warming.
"Faced with this emergency, the time is not for half measures. The time is for a revolution -- a revolution of consciousness, a revolution of the economy. A revolution of political action."
Chirac opened the two-day gathering flanked by

European Commission President Jose Manuel Barroso, head of the UN General Assembly Sheikha Haya Rashed Al-Khalifa and Orthodox Patriarch of Constantinople Bartholomew I.
"Our international political system is inadequate for dealing with the vital challenge of the 21st century -- the question of the environment," Chirac told the gathering of some 200 delegates, including environment ministers and scientists from more than 50 countries.
Warning that "in this area too, unilateralism leads to a dead-end," Chirac argued that the existing UN Environment Programme should be transformed into a full-blown United Nations Environment Agency (UNEA), with more far-reaching powers and greater means.
"This UNEA will carry the environmental conscience of the world," he said. "With a strong political mandate... it will give greater strength, greater coherence to our common action."
Chirac said the Paris conference aimed to build a coalition of support for the creation of such an agency, an idea widely backed in Europe but opposed by the United States, as well as emerging powers Brazil, China and India.
"We are, and rightly so, proud of our intelligence and our technical achievements. But in the space of a few centuries we have burned resources accumulated over millions of years," he told the gathering.
"We are destroying eco-systems that sheltered a biodiversity lost for ever, depriving ourselves of vital keys for the future. We know all this: so what are we waiting for to take the necessary measures?" he asked.
He called for a "radical transformation of our methods of production and consumption," calling for a break with past technologies and a massive shift towards clean energies such as solar power, and bio-energy.
"But to do so we need clear and loyal rules of competition. Either the international community works to create them, or we face 'ecological war'," he warned.
He said the effort must be "fairly shared," saying "northern countries, first to build their wealth on the mass exploitation of natural resources, must accept their responsibilities."
The assessment released on Friday by the UN's Intergovernmental Panel on Climate Change (IPCC) said global warming was almost certainly caused by humans, and carbon pollution disgorged this century would disrupt the climate system for 1,000 years to come.